3 X 5 XL Super Tee Golf Mat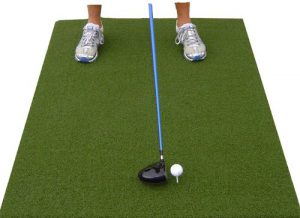 The 3 X 5 XL Super Tee Golf Mat is a fantastic indoor / outdoor golf mat for golfers who want to use real tees and who want the feel of a fairway at a great price point. The Super Tee Golf Mat is 2″ thick with the 1.25 inch nylon turf thick bonded to a 5/8 inch thick polyethylene foam base.  The mat is made with highly durable 100% spring crimped nylon.  The turf will not fade, bunch, or leave residue on your club.  The mat can be used indoors or outdoors on a flat surface.
The thickness of the mat allows golfers to make an ascending or descending impact while simulating the feel of hitting off of a fairway.  Golfers will know when they hit the ball too "fat" because the thick turf will slow the club head.  One of the biggest advantages of the thick and dense turf is the protection it offers to a golfer's wrists and elbows.  We have all gone to a golf range that has thin golf mats placed on concrete.  After a full practice session on those mats we often experience significant arm pain.  The XL Super Tee Golf Mat's cushioning effect all but eliminates the jarring impact.
While the thickness of the mat is a significant benefit there are other advantages to the mat based on its design.  The 3 X 5 foot size of the mat allows golfers to stand at the same level as the ball whether using a wedge or a driver.  In addition, the Super Tee Golf Mat allows golfers to use real golf tees.  This feature enables golfers to use varying height tees for irons through drivers.  And, a real tee offers a true hitting experience as opposed to the deflection caused by a thick, stationary rubber tee.
Buy the 3 X 5 XL Super Tee Golf Mat!
---
PROS:
Great price point for the feel and durability
Designed for real golf tees easily allowing a variety of tee heights
The 1 1/4 inch thickness minimizes wrist and elbow soreness from impact
The thickness feels like hitting off of a real fairway
Highly durable 100% spring crimped nylon material
The material will not fade, bunch, weather or leave marks on your club
3 x 5 foot size is perfect for all clubs — wedges through driver
The mat can be rolled to an approximate 10 inch diameter for easy storage
CONS:
Some customers believe the mat feels too cushioned under foot
Some customers have experienced some "unraveling" at the edges of the turf
No holes for rubber, fixed height golf mat tees
---