Best Premium Golf Practice Net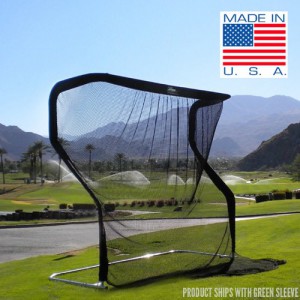 The Net Return Pro Series Golf Practice Net — Developing the perfect golf swing comes down to attaining some knowledge of good swing mechanics and completing a whole lot of repetitions.  The Pro Series Golf Practice Net is the best premium home golf practice net for withstanding the thousands of reps needed to hone a golf swing.
With a five minute push button assembly you can quickly set up the Pro Series Net in your backyard or in your house.  When assembled the Pro Series Net stands at 7′ 6″ tall, 8′ wide and 3′ 6″ deep.  This size gives you a huge target for full swings.  The Pro Series Net also comes with a rugged duffle bag (pictured below).
As a unique benefit, the Pro Series Net is designed to return the golf ball directly to your feet.  This return mechanism decreases the amount of ball shagging you have to do and allows you to concentrate on setup, mechanics and tempo without excessive "downtime" between swings.

There are a lot of golf nets on the market, but this net is a premier model in terms of the durability of its netting material and frame.  A golf drive, with a real golf ball, travels at over a hundred miles an hour in a small concentrated mass.  Lesser nets cannot withstand the repeated impact of full swing drives and iron shots.
The Pro Series Net offers a unique guarantee of 250,000 shots.  It withstands golf ball impacts of up to 225 MPH.  For comparison, in 2011 it was reported that Bubba Watson's driver ball speed was just below 200 MPH.  And, Bubba is a BIG hitter.
The Net Return Pro Series Golf Practice Net is built for high velocity, concentrated and repeated impact.  While it is not the least expensive practice net on the market it offers tremendous value due to its durability!
As a secondary benefit, the Net Pro Golf Practice Net can be used for multiple sports due to its size and durability. It can be used for practicing Golf, Soccer, Baseball, Softball, Football and Lacrosse
Pros and Cons of Net Return's Golf Practice Net
---
PROS:
250,000 shot guarantee
Automatic ball return design
One person assembly in under 5 minutes
Aluminum, no rust, construction
Rugged, black carry bag included
Can be used for multiple sports including Golf, Soccer, Baseball, Softball, Football and Lacrosse
CONS:
Turf is sold separately
Side barrier extensions sold separately
The price tag is hefty but in line with the quality and guarantee
---
For folks interested in a small, portable net for working on their chipping, please check out our recommended  short game chipping net.