Best Golf Swing Speed Training System
The SuperSpeed Golf Swing Speed Training System is considered the best swing speed training system on the market.  With over 200 reviews on Amazon, the SuperSpeed Sticks are rated 4.6 stars.  As further proof, over 600 touring pros use the weighted training sticks to increase their swing speeds. Professional golfers such as Phil Mickelson, Xander  Schauffele, Chris Kirk, and Lydia Ko have used them for speed training.
The speed training system uses "Overspeed" training.  Through the use of lighter to progressively heavier weighted clubs, golfers can increase their golf swing speed, maximize biomechanical efficiency, improve consistency in ball striking, and reduce many common swing flaws. Within a training session, golfers swing all three clubs in a light to heavy progression using the Overspeed training protocols.  These protocols are partly "grip it and rip it", but they work a golfer quickly through the dominant side, off side, and on-knee based swings, among other drill protocols.  Each training session only takes 10 – 12 minutes to complete once you get the hang of the system.  SuperSpeed advises that three sessions a week are recommended to achieve the increase in speed.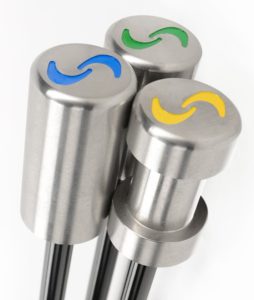 The SuperSpeed Training System comes with three training "clubs" that are progressively weighted. SuperSpeed has developed specific sets for men, women, and juniors.  The women and junior sets differ from the men's set in terms of weight and shaft length.  The SuperSpeed Team spent years determining the optimal weighting breakdown for the SuperSpeed Golf Clubs and the most effective training protocols to maximize a player's progress. The standard men's set includes the Green (light), Blue (medium), and Red (heavy) weighted SuperSpeed Clubs.
The SuperSpeed Team found that "players typically gain an average of 5% additional swing speed over the first 4-6 weeks of regular practice. Golfers gain additional speed as they work through all levels of the training protocols."
With an Amazon rating of 4.6 stars out of 5 stars and over 150 5-star reviews, the SuperSpeed training system has demonstrated its effectiveness in increasing golf swing speed for typical golfers.  An excerpt of  a recent  5-star review said:
"Golf training aids are typically hit or miss. These sticks are the real deal. I'm 30 years old, 10 handicap, 90 mph swing speed with a driver. Fast forward six months (with sporadic use of the superspeed sticks) I've increased driver clubhead speed to 100mph, picking up 30+ yards of distance. Every club in the bag is longer than before. Handicap is down to below an 8.0. It feels like I'm playing a different game with the increase in distance."
Read additional Amazon reviews here.
Pros and Cons of the SuperSpeed Golf Swing Speed Training System
---
PROS:
A highly acclaimed training system
Used by over 600 tour professionals
Not time-consuming to complete the practice sessions. 10-12 minute sessions, three times per week
Simple instructions and drills
The Swing Speed Training System offers club sets optimized for Men, Women, and Juniors
CONS:
The SuperSpeed Sticks require significant space to use — both height and width
The sticks are effective in increasing golf swing speed, but they are not cheap
---
Some folks look for less complicated "systems" in pursuit of greater distance in their golf swings.  We also recommend the SKLZ Gold Flex Strength Tempo Trainer for golfers looking to improve flexibility, tempo, and strength.  Improvements in these areas can naturally increase golf swing speed and distance for many golfers. Read our review for this great flexible golf swing trainer from SKLZ.