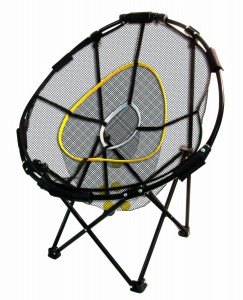 The JEF World of Golf Collapsible Chipping Net helps golfers improve their chipping.  Store it in your car's trunk for the next time you can make it to a driving range or a local park.  Or just set it up in your back yard.
This collapsible chipping net converts from a 23-inch diameter to a 7-inch diameter frame in a matter of seconds.  It has three sizes of chipping baskets to make it easy to narrow your targets and improve your accuracy.
Most of us do not practice our short game enough.  And when we do practice, we don't fully focus on exact targets.  The JEF World of Golf Collapsible Chipping Net takes away our excuses for not doing it right.  Set the net up in your backyard (or even your basement).  Grab your lob, sand and pitching wedges and go out, every day and chip 20 – 25 balls per wedge.  You can't help getting better with that kind of target practice.
At 4.5 pounds, the JEF World of Golf Collapsible Chipping Net is lightweight yet durable and folds down to a compact size for easy storage
The Chipping Net comes with all necessary nets, frame, and legs for easy assembly
The net is secured to the frame using high-quality velcro clamps
Assembly will not take more than a couple of minutes at most.
The JEF World of Golf Collapsible Chipping Net is the perfect short game training aid for beginners to experts, left-handed or right-handed players, and golfers of all ages and genders.  It enables easy and convenient short game practice in your backyard at a very reasonable price.
Pros & Cons of the JEF World of Golf Chipping Net
---
PROS:
Sets up and down easily
Three baskets to improve accuracy
Perfect for any skill level
CONS:
As with any chipping net, you cannot see your ball's rollout distance
---
For full swing practice, folks should check out our review of our favorite full-size, premium golf practice net.