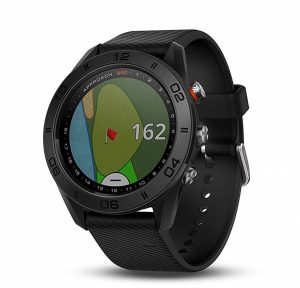 Garmin has been the leader in the golf GPS watch market for years. They have continuously enhanced the "in watch" functionality of their product line while maintaining multiple value and feature price points.  While the product line continues to evolve, Garmin has two current models that we would recommend based on price and features.  The Garmin Approach S20 and Approach S60 both offer:
Over 41,000 pre-loaded courses
Sunlight readable faces with the S60 being color and the S20 being monochromatic
Accurate readings of the distance to the front, middle and back of the green
Yardage to layups and doglegs
Activity tracking such as step counting, distance traveled and calories burned
Both are smartphone compatible for additional functionality
But there are significant capability differences between these two watches. Check out some of the main features below: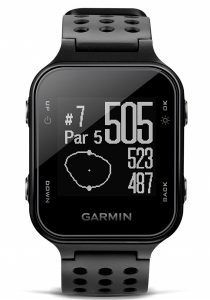 Garmin Approach S20: The S20 is a step above Garmin's base S10 model and offers many of the advanced golf features found in Garmin's most expensive golf gps watches.  In terms of its main features, the Approach S20:
Offers a great value!  For the level of technology, the G20 is offerd at a great price
Provides a .9 x .9 inch, rounded rectangular face
A green view display showing the shape and layout of the green.
Measures and auto-records shot distances.
Has an extended battery life: up to 15 hours in GPS mode; up to 8 weeks in activity tracking mode
Green view with manual pin positions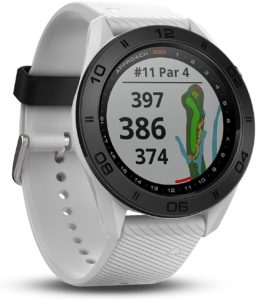 Garmin Approach S60: The S60 is an evolutionary leap beyond Garmin's early models. While offering the functionality of prior generations the S60 offers enhancements in its golf functionality but also as an activity and exercise tracker.  The Approach S60 Offers:
A large, 1.2″ sunlight-readable color display.  It is a touchscreen display with 240 * 240 pixels (nearly twice as many as the S20)
Precise yardages to greens, hazards and doglegs, on full-color course maps
Distance calculation to any point on the hole by touching the screen
Ability to track your swing tempo enabling tempo training
Up to 10 hours of battery life while golfing — or up to 10 days in watch mode
In terms of "Smart" capabilities, you can see the weather, your calendar, control your smartphone music, among other functionality
As  a physical training aid the watch  has heart rate tracking and has enhanced gps, timing and profile functionality for running, cycling, swimming skiing and more.
Pros and Cons of the Garmin Golf GPS Watch
---
PROS:
No technology is more accessible than an on-your-wrist GPS
Leader in GPS technology and mapping gives highly accurate distances
No ongoing subscription costs or fees
No/low glare screens even in bright light
Product line offers a progression of function and price.  Buy only what you need
Stylish design
CONS:
When on, the notification function can be a bit of an annoyance
Stat tracking is a little cumbersome
Some reviewers feel the S60 has too many features of limited value
---
We would not go to a course without wearing a Garmin Golf GPS watch!
For folks who want an even more robust golf performance analysis system check out our review of Arccos Golf Caddie.