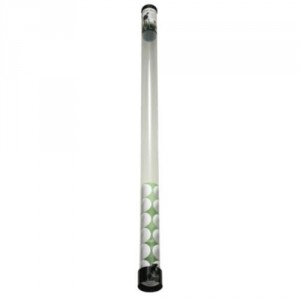 The Proactive Practice Stick Ball Retriever is a must-have golf training aid. This simple yet effective golf ball shag tube takes the backache out of practicing your short game (or long game if you have a big enough back yard).
The transparent tube holds twenty-three balls and has an easy click lever mechanism to secure and release the balls. This lever, which you can trigger either with your hand or foot, also allows you to "unload" the tube exactly where you want to. Whether you choose to release one ball, or all twenty-three, it's as easy as press and release.
For many people practicing their short game is an exercise of tedium. Picking up the balls all over the chipping range is a tiring, back-breaking annoyance. In the end, it is just a lot more fun to hit the big stick and let the grounds' crew gather the balls. So many golfers just head to the range and don't spend enough time on their chips and pitches.
This retreat to the driving range is a huge mistake.  While your driver and iron games are important, most players can shave a greater number of points off their handicaps by spending time on their short game.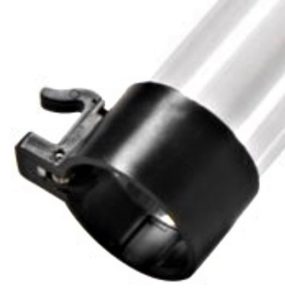 The Proactive Practice Stick Ball Retriever encourages you to spend more time practicing your short golf shots by taking the hassle out of gathering the balls.  With this aid, you never have to bend down again while practicing your chipping and pitching.  More comfort, less hassle, and more convenience mean more enjoyment and time practicing your short game!
Another great aspect of this golf ball shag tube is it is highly portable and fits easily within most golf bags.  We would suggest that you leave the tube in your bag.  Just fill it with the type of balls that you prefer, put it into your bag and then use it as your source of game balls as well as when you practice your short game.
As simple as this golf ball shag tube is, we believe it is a must-have for anyone who is going to spend time improving their short game.
Pros and Cons of the Golf Ball Shag Tube
---
PROS:
Lightweight and convenient
Easily fits in most bags
Durable materials for long life
Ends the drudgery of practice by decreasing the hassle of picking up balls
A large enough number of balls to allow a golfer to get into a groove while practicing
CONS:
Being picky but, 23 balls is a strange number.  Why not two full boxes at 24 balls?
---
For golfers who prefer a shagger that can hold more golf balls, we also highly recommend a golf ball shag bag.