Best Golf Putting Alignment Mirror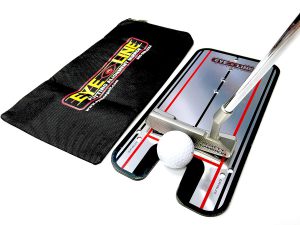 The Eyeline Golf Putting Alignment Mirror is our pick as the best golf putting alignment mirror on the market based on the simplicity of use and cost.
This type of putting alignment aid has been around for years, if not decades.  It assists golfers in keeping their eyes, shoulders, and putting stroke all on parallel lines.  Instructors have noted that the ball will follow the path of a golfer's eyes.
If a golfer's eyes are not parallel to the desired line of the putt, the ball will go along the line of the person's eyes as they make impact with the ball.  It is essential that the putter takeaway, and stroke, enable squared contact along the desired path for the ball.  The player's eyes need to be parallel with the stroke.
The EyeLine Mirror is 12″ x 6″ in size and utilizes a highly reflective surface with black and red guidelines to help golfers check their posture and alignment as well as the path of their putter stroke.  This type of mirrored training aid has been used by hundreds of tour pros and golf teaching professionals to hardwire proper putting alignment.    
There are very few training methods that are as widely adopted as this type of practice aid.  We view the Eyeline Golf Putting Alignment Mirror as a must-have for all golfers looking to sink more 6 – 10 footers and decrease three-putts.
Checkout EyeLine's quick video on the use of its alignment mirror
Pros and Cons for the Eyeline Putting Alignment Mirror
---
PROS:
The 12″ x 6″ size of this alignment mirror makes it highly portable
The surface of the aid is highly reflective
The Putter Gate Slots let you set up a gate of tees for the toe and heel of the putter
The price point of this putting aid is highly competitive given its quality and use among the pros
CONS:
Cannot find any significant negatives
---
Another putting aid that we like is the Putter Wheel  Putter Wheel, which is highly effective in teaching golfer's how to hit putts with perfect impact.