Arccos Golf Tracking System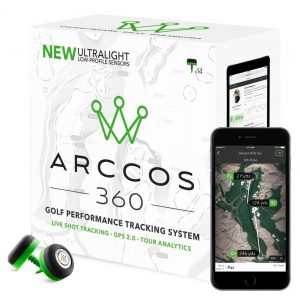 The Arccos 360 Golf Performance Tracking System is a fully automatic GPS and Shot Tracking System that capture a golfer's shots and statistics real time as you play. After a round, the Arccos Tour Analytics Platform assists you in analyzing your playing stats and helps you break down the strengths and weakness of your game. The Arccos 360 Golf Performance Tracking System is really 3 electronic training aids in one.
First and most simply, Arccos is a solid 2.0 GPS system for on course management. It is accurate within a few feet.  It gives good course visualization on Apple and Android smartphones.  And it shows distances to the front, back and middle of the green
Second, at its heart Arccos is an advanced training aid that shows golfers how far they hit the ball. As rounds are played, the cumulative information provides golfers with a realistic perspective on their max and average distances for each club
Lastly, Arccos is a data-filled golf improvement system that helps golfers understand the strengths and weaknesses of their games as opposed to just going by gut
What are the actual components of the Arccos system and how are they used? With each purchase, golfers receive:
14 ultra-lightweight smart sensors: 13 for woods or irons and 1 designed specifically for the putter
One complete set of batteries for the club sensors
Free iOS and Android apps
Installation of the system is easier than one might think. Essentially golfers will screw a smart sensor into the grip end of each club and then pair the club to the Arccos application that they have downloaded onto their smartphone device. While this set up might sound like a hassle, the entire process will take between 5 – 10 minutes to perform. Once installed and paired Arccos is good to go and ready to track your shots and stats starting with your next round.
GPS Feature:
The Arccos 2.0 GPS offers over 40,000 courses spanning the globe. The GPS function is visible on Apple and Android smartphones. The GPS tracker offers accurate distances to the front, center and back of the green. In addition, with a touch of a finger a golfer can determine the distance to any point on the course. This feature enables accurate distances to hazards, doglegs and layup positions.
Club Tracking:
Through intelligent proprietary algorithms the Arccos tracking system will measure the distance you hit the ball and the club that you have used.   For those needing the details, the technology works as follows:
As an example, when a golfer hits his driver on the first tee, the tracking sensor on the driver silently signals the impact of the club on the ball to the tracking app using Bluetooth technology. This signal will also indicate the golfer's exact location on the golf course. On impact, Arccos electronically logs the "starting" point for the shot
The golfer then proceeds to the location of his drive to hit his second shot. Once the golfer makes his second shot, the application "closes out" the initial drive while "starting" to track the second shot
By sequentially starting and then closing each golf shot Arccos is able to record the distance of the shots, the clubs that were used, as well as the GPS location of the shots as they were played  All of this tracking is accomplished seamlessly without golfer involvement
Through repeated use Arccos can develop a detailed profile of your club striking. Arccos measures distance, longest hits, standard deviation in yards among other data points.
Arccos Analytics Platform
Taking a step beyond just club data and 2.0 GPS functionality, the Arccos Golf Tracking System sets itself apart in its ability to improve a player's game once the round is done. The amount of detailed data is beyond comparison to any other performance system on the consumer market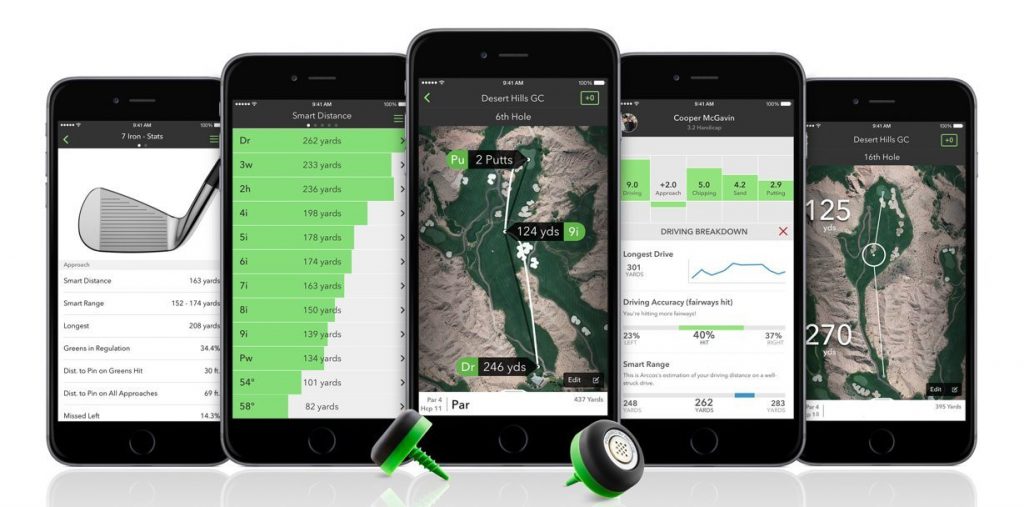 The Tour Analytics platform:
Breaks down a player's handicap into five key elements: Driving, Approach, Chipping, Sand and Putting
Offers comparative data from each of the five elements to players with similar handicaps
Evaluates playing patterns that help you refine on-course tactics
Can play back the prior round so that golfers can determine what they did right and wrong
Arccos Golf Tracking System Weaknesses
While Arccos is the leader in performance tracking technology there is still room for improvement. Putting aside minor inconveniences like sensor battery life (about 50 rounds per battery) there are some limitations to the technology. In a golf round there can be situations where the technology cannot clearly distinguish whether or how many strokes have occurred. A couple examples will illustrate the occasional errors:
The easiest example is a bad bunker shot where the ball does not clear the bunker lip and ends up rolling back where it started. Arccos will not 100% read this situation correctly in terms of how many strokes were needed to advance the ball from the original location
A second example which is more prevalent occurs on the putting green. On occasion Arccos will count a putt when all a golfer tamps down a rough spot on the green with the putter. Or if a golfer uses his putter to hit back a "gimme" to another player, Arccos might count the impact as a putt.
In both examples, in fact in all instances of Arccos "errors", golfers can easily correct the errors on the spot or after the round.
Pros and Cons
---
PROS:
Easy to set up
Set it and forget it use. No need to "click" clubs prior to shots. Just go to the course and play
Solid GPS with front, back and middle distances to the green
Accurate data on average club distances and variability
Strong game improvement data tracking and analysis
Can "play back" every hole after the round
Breaks down handicap by shot type enabling focus on true weaknesses
CONS:
You need to carry your smartphone in your pocket for the Bluetooth signal and shot tracking to work properly
Not an inexpensive product
Not 100% accurate, 100% of the time
Conclusion
The Arccos Golf Performance Tracking Systems is a huge technological step forward in bringing real time data to the average golfer. We particularly appreciate Arccos' ability to defog are memories in terms of how far we really hit the ball. Arccos is must have technology for folks who are committed to improving their golf games.
Frequently Asked Questions
Question:  Do you have to carry your smartphone on you or can you leave it in your cart?
Answer:  It is best to carry your phone on you in part because Bluetooth has a limited range. The Arccos system's GPS is based on the location of the app. If you leave your smartphone in the cart, the Arccos system will assume that the cart's location is the point of shot impact.
Question:  How long do the batteries last in the club sensors?
Answer:  Generally speaking they will last approximately 5 years with 50 rounds per year.
Question:  How does Arccos tell a practice swing from a real swing?
Answer:  The sensors are programmed to detect an impact.  A practice swing/putt shouldn't register. If you take a divot on a practice swing, an initial shot may register. But, only the last impact at that ball location will be recorded.
Question:  Will the weight of the sensors effect my swing?
Answer:  Each Arccos sensor weighs less than 12 grams, meaning they have zero swing impact. In fact, blind swing tests showed even veteran pros couldn't distinguish which clubs had sensors and which didn't.
---
See below to buy the Arccos Golf Tracking System!
Our system features 14 ultralight sensors - one for each club. It automatically records and analyzes every shot you hit, combining Live Shot Tracking, GPS 2.0 and Tour Analytics to help any player make smarter decisions to shoot lower scores.
Usually ships in 24 hours
& Free shipping
Last update was in: April 18, 2019 4:43 AM
Our system features 14 ultralight sensors - one for each club. It automatically records and analyzes every shot you hit, combining Live Shot Tracking, GPS 2.0 and Tour Analytics to help any player make smarter decisions to shoot lower scores.
Arccos users know the exact distance to any point on the course, learn precisely which club to use in every situation and identify actual strengths and weaknesses of their game. Arccos 360 unlocks data previously only accessed by PGA Tour pros.
Developed in partnership with Microsoft, Arccos Caddie shows your optimal strategy on any hole in the world. It analyzes every shot you've taken with Arccos, as well as 120 million+ shots taken by the Arccos community on more than 40,000 courses.
Arccos 360 is hands-free and fully automatic. Unlike competing products, it requires no tagging, tapping or other annoying disruptions to a player's routine.
The updated low-profile sensors are 50% smaller and lighter than the original Arccos Golf system. Arccos 360 sensors feature a permanent battery that is designed to last five years. The sensors come standard with a no-questions-asked, two-year warranty.
Free mobile app available for iOS or Android phones