Best Golf Grip Training Aid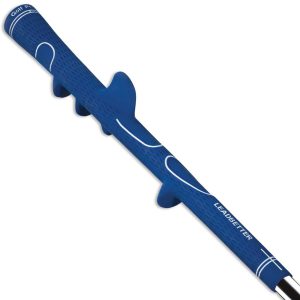 David Leadbetter Golf Training Grip — What does a perfect golf grip look like and feel like? Golf Pride and David Leadbetter collaborated in developing this golf grip training aid to help you hardwire the answer to that question!
Many of us have taken lessons and have been shown exactly how to grip a club.  We have been taught strong, neutral and weak grips.  The instructor has placed the club into our hands.  For that short instructional moment we get it.
Then, the grip lesson is over.  The instructor moves on to some other fundamental lesson and so do we.  By the time normal golfers get home or go to play the next round of golf, our mind and muscle memories have blurred.  We have, to some degree, forgotten the positioning and feel of the perfect grip.  We have not ingrained the muscle memory in our hands to consistently recreate the ideal hand and finger positions on the grip.
For a low cost, the David Leadbetter Training Grip enables you to learn, engrain and repeat the proper grip.  The Training Grip has been engineered to guide your hands into the correct position on the grip.  We have found that the best way to use this training aid is to keep it handy in your office or home.  Mount it on a practice club, pick it up and grip it on a regular basis.  Feel your hands move into the perfect position as they grip the trainer.  Repeated use of this aid will hardwire the correct hand and finger positions into your mind and muscle memory.
This highly durable, high-quality rubber Training Grip will teach you proper hand positioning and grip so you can consistently hit the ball with power, accuracy and confidence.
---
PROS:
Teaches proper hand positioning, finger placement and grip
Inexpensive and effective grip training aid
CONS:
Only available in right handed model
---
See below to buy the Best Golf Training Grip!