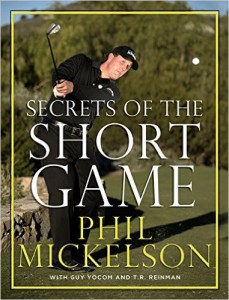 Secrets of the Short Game by Phil Mickelson — It has been a few years since this book came out, but it is our pick as the best golf short game book.  We believe there is no better information for improving your chipping, pitching, sand play and putting.
In his prime, and to this day, Phil Mickelson has demonstrated the talent, skills and imagination that set him apart from his peers as one of the best golfers from 50 yards in. The Secrets to the Short Game distills Phil's knowledge of the short game into a highly readable and actionable set of lessons that will help the beginning and advanced golfers to improve.
The Secrets of the Short Game is easy to read, easy to understand and has highly relevant photos to drive the key lessons home. The book covers all aspects of the short game with a strong mix of science and Phil's flair.
The book is broken down into five extended sections:
Putting
Chipping
Sand Play
Pitching
Flop & Lob
Each section starts by teaching the basics and then progresses through more challenging concepts and playing situations. For example, the chipping section has 23 lessons that will teach you everything from setup position, to trajectory, to how to handle a ball in a fluffy lie. Sand Play has 19 lessons teaching you how to hinge and hold, succeed with a buried lie, how to hit long bunker shots and more.
Editor's Note: I usually keep extra copies of this book at home to give away to friends when they are struggling on their short game.
---
PROS:
Easy to read and easy to understand
Tons of visuals to reinforce the lessons
Comprehensive instruction on all aspects of the short game
You can clearly hear Phil's voice and experience throughout the book
CONS:
The book does not come with the available DVD
Some readers have felt that the putting instruction could have been a little more in depth
---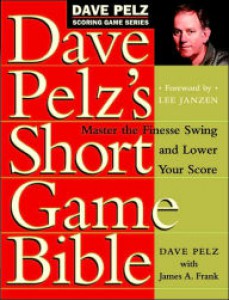 For those of you who want to go even further in your study of the short game we would also highly recommend Dave Pelz's Short Game Bible. This short game book has fewer images, much more science and less Phil flair. That said, it is truly the bible of how to improve your short game.  Pelz is considered one of the true short game teaching masters.  He is also been Phil Mickelson long-time short game coach. At 450 pages you will be amazed at how readable and actionable the book is. Every serious golfer should own it.
New copies of Pelz's Short Game Bible can be hard to find, but Amazon has amazing offers on used copies of this book in excellent condition.
See below to buy the Best Short Game Book!